History of Matthew 25 Ministries
The aged, mentally disturbed, crippled, the lepers, the deaf, dumb and the blind are people we meet and see in our day to day lives. But for one reason or other society reacts differently to most and not many find it in themselves to reach out to persons who are physically challenged. Yet to such has Ms Inonge Nawa been called.


Bishop Dr. Edgar and Prophetess Isabel Ng'ambi with children from Mathew 25 Ministries at PCC PHI on Feb 6, 2011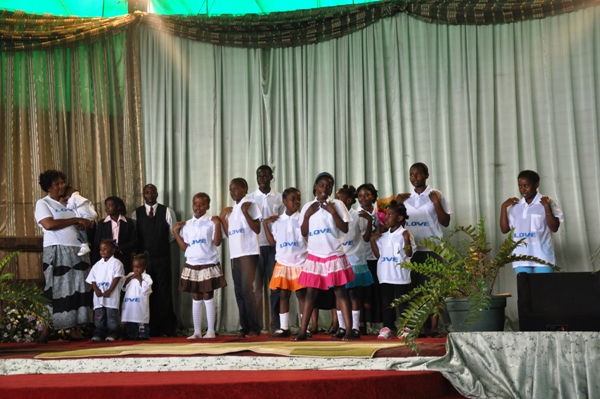 Mother Inonge (left) with some of children she looks after performing a song at PCC PHI on Feb 6, 2011
How was Mathew 25 Ministries Born?
A teacher by profession, on a historic January 25 of 1995, Ms Nawa was teaching a class of second grades. While writing the date on the chalk board, she mistakenly wrote Monday 25th Matthew, 1995 instead of Monday 25th January, 1995.
"The class became extraordinarily quiet", she explains, "and I realized the Presence of God was over the entire classroom. Now I had an assistant teacher with me in class that particular day and when I enquired over the unusual silence in class she said 'check the date'".
Ms Nawa did correct the date on the board, but throughout that day it was as though somebody was telling her Matthew 25. When she got home she decided to read the whole Chapter of Matthew 25 in the bible.
"But as I read from the beginning of that chapter, all those parables did not make so much sense to me. Then I got to verses 31 to 39 which says "When the Son of man comes in his glory, and all the holy angels with him, he will sit upon the throne of his glory: And before him will be gathered all the nations: and he will separate them one from another, as a shepherd divides his sheep from the goats: And he will set the sheep on his right hand, but the goats on the left. Then the King will say to them on his right hand, Come, you blessed of my Father, inherit the kingdom prepared for you from the foundation of the world: For I was hungry, and you gave me meat: I was thirsty, and you gave me drink: I was a stranger, and you took me in: Naked, and you clothed me: I was sick, and you visited me: I was in prison, and you came to me. And the righteous will answer him, saying, Lord, when did we see you hungry, and feed you? Or thirsty, and give you drink? When did we see you a stranger, and take you in? Or naked, and clothe you? Or when did we see you sick, or in prison, and come to you? And the King will answer and say to them, Verily I say to you, Inasmuch as you have done it to one of the least of these my brothers, you have done it to me".
She states that she begun to cry as she felt empty and without knowing God fully despite being a Born Again Christian. In all her life as a Christian, Ms Nawa says she had never bothered to practice this word.
The following day, which was January 26, as she was going for work, she saw a mentally disturbed man, sick and naked, and the Lord told her that was how much she had neglected Him. She ignored it as just one of her own thoughts. The next day again, January 27, this time she met a mentally disturbed man who asked her for money to which she said she did not have any to give him although she actually had. And as she proceeded onto another side of town in the course of her business, she met the same man who again asked for money, and once again she claimed not having any to spare. Later, as she was leaving a shop with shopping in hand to go and board a bus, she met the same mentally disturbed man but this time right at the bus station, and once again he asked her for money. Again, she said she did not have anything.
"Immediately I gave that reply the man disappeared, I looked around but he was gone, I began asking forgiveness from God because I realized that was no ordinary encounter I had just had," she said.
Later that week, her prayer partner suggested that they begin visiting a hospital for the mentally sick. Ms Nawa says she agreed and believed that was a confirmation from the Lord on the course her life was about to take. In May that same year she decided to resign from her teaching after having served for 27 years and decided to go on a three months fast to ask God for a humble spirit of servant hood.
"People thought I had gone mad but God told me many would not understand my action but blessed would be those that would understand. And so I begun going to Chainama Hospital for the mentally ill, carrying with me a big bag full of clothes and a pair of scissors to cut their unkempt hair. And those who got to understand the call on my life made donations in various forms to assist me in my work," she explains.
Ms Nawa got born again in 1988 and had been congregating with the Northmead Assembly of God (NAOG) Church in the capital Lusaka until this time when her life took a turn and God directed her to leave and join Praise Christian Center (PCC), a church she says she did not particularly know well enough.
"I did not understand why God said that and when I got to PCC I spoke with Bishop Edgar Ng'ambi and his answer was that he knew because God had already told him about me. Little did I know that the vision of the church was to equip the saints for the work of ministry and God had explicitly said to me, 'you will be a mother to the lame, albinos, the aged, widows, the homeless and all those that people do not want to associate with," Ms Nawa said.
But before her calling could see full fruition, she suffered many afflictions. "I was homeless at some point and had to spend nights on a bare veranda, and in the year 2000 I lost my parents and later suffered a stroke. I however came to understand that God was preparing me to be in a position to fully mother those that would come my way because I had gone through it myself," she says. People later started calling her 'Mother Inonge'.
And so is how Matthew 25 Ministry was born, and she was blessed with a home within Lusaka which was given to her by five orphans whose parents had left the house for them. "I have since seen those children lifted to high positions in society, they are all grown now and we are still in touch," Mother Inonge says in appreciation.
The house that was presented to her was later extended and furnished by then Celtel Zambia, a mobile Telecommunications Service Provider through a programme called Touching Lives. The first children she took in were born of a mentally disturbed woman, whom she later also adopted. The woman miraculously recovered her mental state. Matthew 25 International Home currently houses 15 children, all who are in school, and that is aside from those who are situated in various areas of Lusaka where she distributes food and other items. Among them are 20 children in Mapoloto within Lusaka, 50 in Mtendere also in Lusaka and 300 children and the aged in Chongwe Township, about 45 minutes drive from Zambia's capital, Lusaka. The rest are in prisons, Liteta Hospital for lepers and others around the country that she visits on a regular basis.
"I am grateful for what God has continued to do for this ministry over the years both through Praise Christian Center and many people out there and right now I am trusting God to provide land for the ministry where a clinic and bigger home for children and the aged can be built. God told me one thing while I took my three months fasting and prayer back in 1995 and that I have carried with me through the years: I may give all manner of service to people but the greatest I will ever give is love," Mother Inonge Nawa says.